July 16, 2012

Panoramio is a free service that allows you to upload, view and map spatially registered images (images that have be geolocated: given a latitude and longitude). The Spatial Portal of the ALA uses the Panoramio web services to tap and display any available images with a location within the displayed map window.
To activate the Panoramio function, click on the image icon beneath the Google Map scale slider bar. To de-activate Panoramio, click the icon agin and any displayed images will be removed.
The images are extremely useful for seeing what the area around the location looks like. The images may be of people but are more likely to be of landscapes. From these images, useful details can often be discerned, for example, vegetation type and structure, diversity in vegetation type, soil type, landscape, stream and river condition.
Only a limited number of images are displayed at any map scale, but the subset of images is dependent on the spatial extent of the map window. If the Panoramio function is enabled, zooming or panning the map will result in an update of the mapped thumbnail images. To see the images in more detail, just click on the image thumbnail and a larger image with links to image metadata and Panoramio will be displayed.
PLEASE: If you have taken images of sites for biological/environmental surveys, I would urge you to upload your images to Panoramio and share them with the research community and the public. Your attribution stays with the images and it is a great way of sharing a little of the information obtained from fieldwork. These images/photo points represent a wonderful source of information about a site at the time the photograph was taken. It does not matter if the images are of the landscape or the view from the corner point of a sample site.
Just zoom and pan the map to the area of interest and then click on the Panoramio icon beneath the zoom slider bar and a suite of thumbnails will be displayed on the map as below-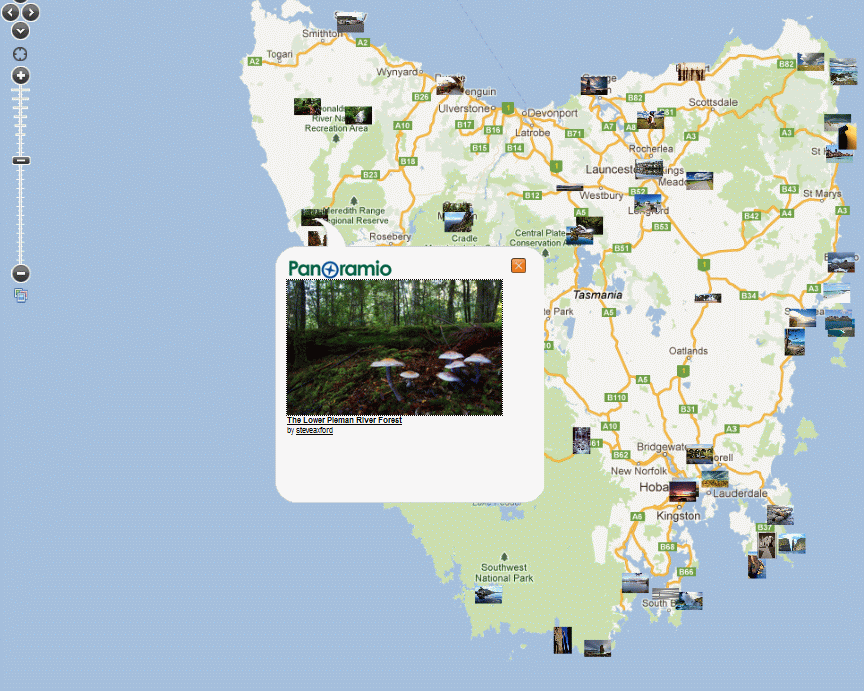 Panoramio images
Clicking on the image on the map will take you to the Panoramio site and display a full size image with supplied metadata.